If you're a beer geek, you probably have this problem: There are just a few old beer shirts that you just can't part with.
Perhaps they are shirts tied to fond memories of trips or a now-defunct brewery, or maybe the design is just cool. But no matter what, those shirts just never seem to make it into the Goodwill or rags pile, even though you never wear them anymore (admit it, they're too worn out). Instead, they just sit in a drawer, where you never get to enjoy them and they just take up space.
Here's a novel idea for those old tees: Turn them into a quilt, wall covering or bedspread. Yep, this my friends, is a handmade quilt featuring favorite old beer T-shirts:
I credit the idea to my brilliant hubby, Mark Campbell, who just can't part with some of his fave beer tees (and I don't blame him — they're cool). He mentioned that it would be awesome to have those made into a quilt, and I, being the ever-so domestic type who can barely darn socks, looked at him like he was speaking a foreign language.
But our friend, Susan Bartlett, is a wonderfully skilled quilter, and her husband, Dan, is just as an ardent beer fan (and T-shirt hoarder) as my hubby. I mentioned Mark's idea to her, and the next thing I know, Susan's whip-stitched out this amazing quilt starring some of Dan's favorite keepsake beer shirts, which will no doubt be on display in their home. Take a look at this amazing quilting work: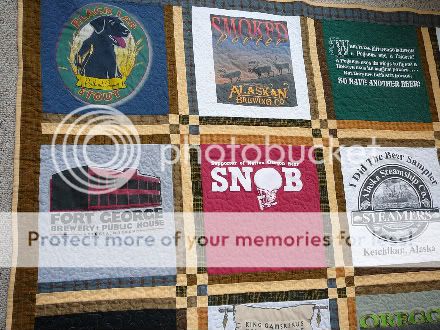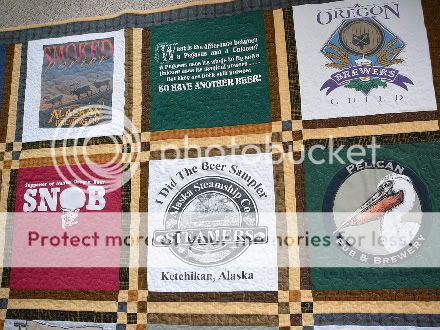 It's a thing of beauty!
Has Susan's quilt inspired me to learn to sew? Not a chance. But I am looking at Mark's old shirts in a whole new way, and will, hopefully, be able to talk Susan into making one of her creations for Mark soon.
Perhaps you've also been inspired in some other ways to preserve favorite beer T-shirts? If so, I'd love to hear about your creations!